Barbados Intl Airport (BGI)* Car Rentals | In Terminal
Locations Images: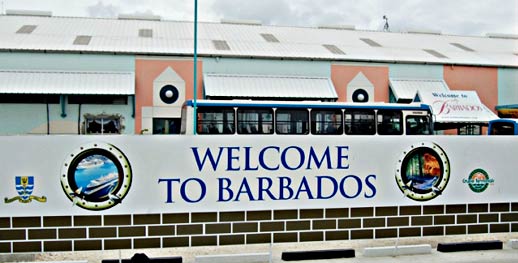 Christ Church Pickup Information
This is an affiliate location, Drive-A-Matic, in the Bardados Airport.
Located in terminal at the Grantely Adams International Airprort.
Drive-A-Matic's Airport office is located on the left as you exit the Arrivals Hall. Clients should make their way to our office where our Rental Agent would be pleased to assist you.
Christ Church Local Policies
This location does not participate in EZ Money.
Policies
Get Connected
At E-Z Rent-A-Car, we want to keep you updated so you can optimize all of your travel plans. Click the buttons above to visit our blog for great travel advice or connect with us on Facebook and Twitter for updates regarding all of our travel locations!
Travel the Caribbean
Barbados is an increasingly popular vacation destination. Located in the Lesser Antilles, Barbados offers pristine beaches, fascinating historical sites, and great shopping. The sandy beaches are made from finely ground coral, giving the sand a unique, pink hue. Be sure to check out some of these great tourist attractions during your visit:
Welchman Hall Gully Tropical Forest
The Boatyard
Harrison's Cave
South Point Lighthouse
The Stone Barracks
Bridgetown

If you're thinking about making travel arrangements to Barbados, choose E-Z Rent-A-Car for your car rental needs! With beaches like these, you shouldn't have to worry about how you're going to get from one place to the next. Choose from over 16 different types of vehicles that best suit your needs, reserve your space and time, and visit us at our car rental partner, Drive-A-Matic, located in the Barbados International Airport upon your arrival. With E-Z Rent-A-Car, you don't have to worry about car rental in any part of Barbados. All you have to do is grab the keys, go for a ride, and relax!

Local Testimonials

I think this was the easiest process ever for renting a car. But I know for sure the agents in the Bridgetown office in Barbados at the airport were the friendliest and most helpful. EZ is the right logo for your company. Many thanks
Pages